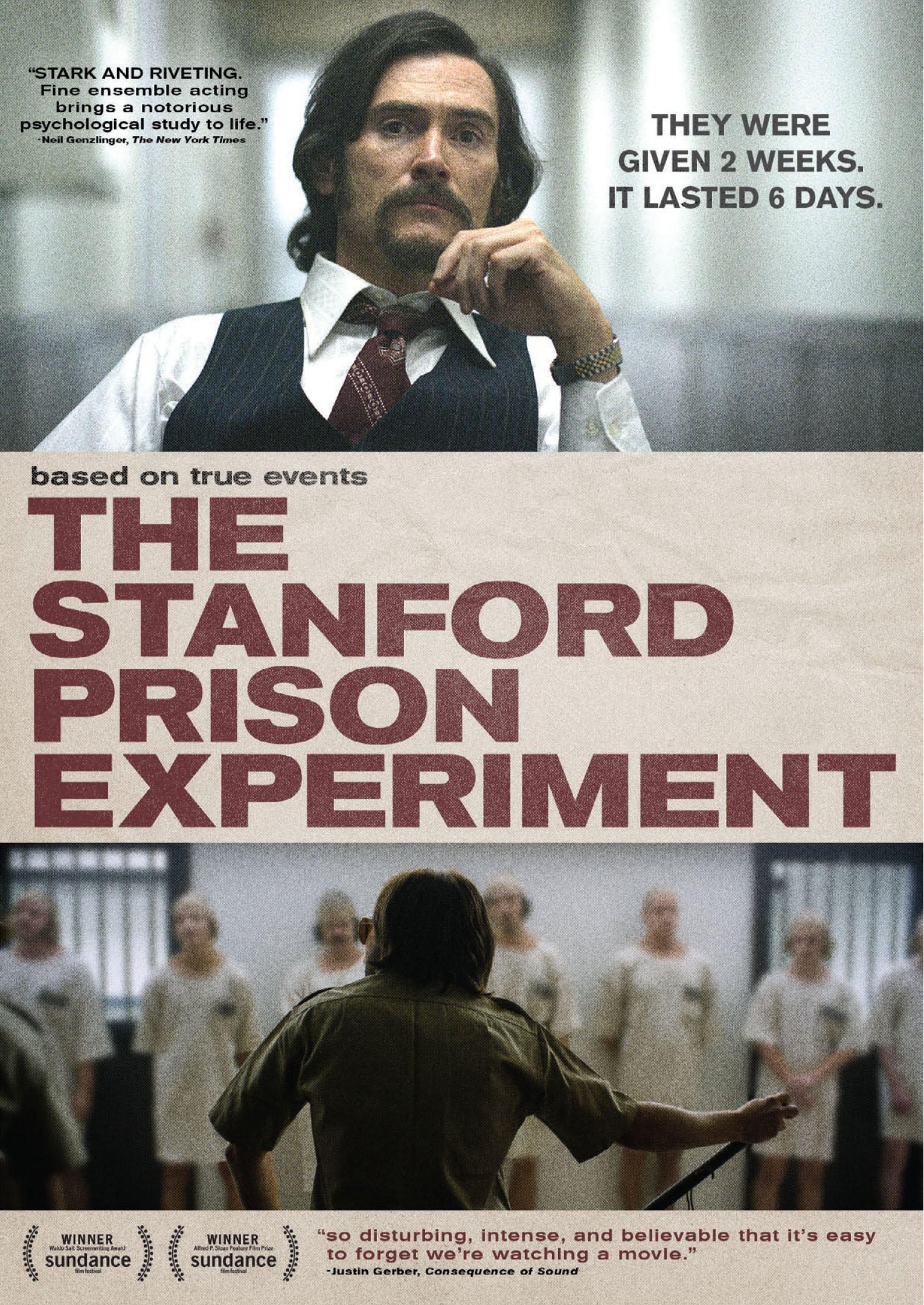 The stanford prison experiment è un film girato da Kyle Patrick Alvarez ( ) e che racconta la vera storia di un esperimento psicologico condotto nel 1971 da  Philip Zimbardo all'interno dell'università di Stanford .
Un gruppo di volontari scelti fra gli studenti universitari e  considerati mentalmente stabili venne diviso in guardie e prigionieri e fatti vivere all'interno di un penitenziario parzialmente ricostruito all'interno dello stabile  vuoto sfruttando la chiusura universitaria estiva,ai gruppi vennero dati elementi che destrutturassero la loro identità personale aggregandoli in gruppi ( es tutte le guardie avevano divise uguali,occhiali a specchi e manganello, tutti i prigionieri smettevano di avere un nome ed erano identificati con un numero stampigliato sulla loro divisa ) ,l'esperimento ebbe risultati molto al di là di quanto previsto inizialmente.
La trama di questa pellicola non è nulla di originale ,le ricerche del dottor Zimbardo sono state portate sugli schermi in numerose occasioni ,ultima delle quali nel 2010 il film The experiment, proprio in questo caso però la trama era molto diversa dalla realtà,il punto di forza di questo The stanford prison experiment sta proprio nell'amplia fedeltà nei confronti della vera storia , accompagnato dalla scelta di riprese che molto ricordano gli anni 70 soprattutto nelle tinte .
Zimbardo è interpretato da  Billy Crudup ( il Dr. Manhattan di Watchmen) ,credibilissimo in un ruolo fra il chiaro e lo scuro ,insieme a lui troviamo Keir Gilchrist ( It Follow) ,Ezra Miller ( Il futuro Flash dei film della  DC) ,Michael Angarano ( The Knick) e tanti altri attori come Tye Sheridan, Thomas Mann, Jack Kilmer, Miles Heizer, Moises Arias  , tutti forniscono una prestazione maiuscola,un altro punteggio positivo .
Parliamo di un film da vedere a cervello rigorosamente acceso , magari non da soli  e con un post visione fatto di discussioni costruttive sugli argomenti trattati nella pellicola ,ma siamo al limite dell'utopia.
Sicuramente consigliato
Stay Tuned