Quanti di voi conoscono la storia del videogioco di E.T su Atari??
Beh era il lontano 1982, l'Atari 2600 andava alla grande e la casa produttrice decise di sfruttare l'E.T mania che imperversava alla grande per aumentare il proprio successo e quale momento migliore per fare uscire un nuovo gioco se non natale ?? contattarono quindi Howard Scott Warshaw,uno dei grandi nomi dell'epoca ma gli diedero solo 5 settimane per completare il progetto,Howard rispettò i tempi dati ma consegno a noi player forse uno dei peggiori videogame mai creati;a peggiorare la situazione ci pensò la Atari che nonostante sapesse della non alta qualità del prodotto ne fece produrre circa 4/5 milioni di copie,il risultato fu un tracollo,le cartucce rimaste invendute vennero seppellite in una discarica del New Mexico dove sono rimaste fino al 2014.
Tutta questa introduzione è necessaria per calarsi nel clima di Angry video game nerd : The movie,un film indipendente del 2014 ad opera di James Duncan Rolfe, un noto youtuber americano attivo nel settore delle recensioni di Retrogame che ha finanziato questa pellicola utilizzando il sistema del  crowdfunding (più di $ 325.000 raccolti) .

Il film è fondamentalmente una commedia che oltre alla sopracitata storia legata ad E.T.( chiamato Eee Tee nel film per evitare la violazione del copyright )tocca i cliché dell'area 51 e degli UFO,il tutto però non è godibile totalmente a tutti,omaggi,gag,situazioni e perfino le musiche sono talmente Nerd Oriented ,in generale però la trama scorre liscia e piacevole anche per i non amanti dei videogame,il livello degli effetti speciali è ridicolo,attimi nonsense splatter e riprese che non mascherano l'utilizzo di plastici anziché CGI sono volutamente lasciati visibili per renderlo a tutti gli effetti un B-movie .
Ironicamente la trama gioca sul tema della leggenda delle cartucce seppellite,ironizzando sulla loro reale esistenza,peccato che pochi mesi prima dell'uscita del film le cartucce vennero realmente portate alla luce,un piccolo colpo di sfortuna.
Nel cast troviamo oltre al regista\protagonista Rofle un cast di attori poco conosciuti come Jeremy Suarez ,Bobby Reed,Stephen Mendel e Sarah Glendening , oltre che piccoli camei come quello di Howard Scott Warshaw e di "mr Troma" Lloyd Kaufman.
Una pellicola adattissima per gli amanti del retro gaming e per gli amanti dei b-movie, ma che si adatta anche per una serata da commedia tranquilla.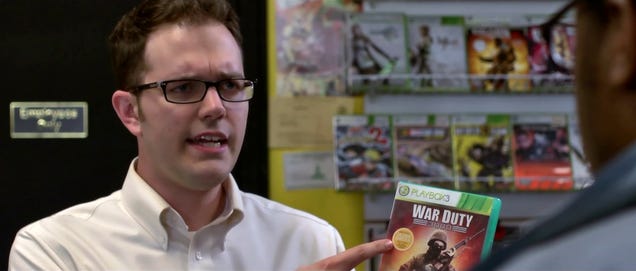 Personalmente all'interno di questo piccolo film ho trovato un senso secondario,più profondo di quello che la superficie mostra,soprattutto nella prima parte Angry video game nerd : The movie nasconde una critica al mercato attuale,adattabile non solo al mercato videoludico ma pure a quello cinematografico,viene mostrato come un gioco pessimo come Eee Tee possa essere usato per creare il successo di un altro gioco pessimo ( in questo caso il sequel ) e come uno youtuber incredibilmente possa aumentare le vendite di un videogioco parlandone male,creando una categoria di player che ci giocano per verificare che abbia ragione e rendendo il titolo un "cult"; questa situazione è fondamentalmente la stessa che ha decretato il successo di un titolo come Goat Simulator ed il crearsi di giochi come i simulatori di roccia e di albero,totalmente insensati ma che mostrati in continuazione in rete generano lo stesso mercato.

Stay Tuned.