Per la prima volta nella per ora breve vita di questo progetto Babbano il sottoscritto ha avuto l'opportunità di rivolgere una domanda ad un noto regista europeo; scopriamo insieme di chi si tratta:
Nacho Vigalondo è un eclettico regista classe 1977  proveniente dalla Spagna,personalmente lo trovo dotato di uno stile molto particolare che mi ha portato ad apprezzare ognuno dei suoi lavori , primo su tutti Los Cronocrímenes  , un thriller sci-fi molto interessante a base di viaggi nel tempo rilasciato nel 2007 ( e di cui sono fiero di possedere il DVD ) .
3 sono i film per ora usciti sotto la regia del cineasta iberico, oltre a quello già citato infatti ha realizzato nel 2011 Extraterrestre,molto più legata al mondo alieno e nel 2014 ha finito di girare Open Windows un thriller meno legato all'universo sci-fi che si caratterizza dalla totale ripresa in screencast ( tutto ambientato in uno schermo del PC) e dal fatto che ha come protagonisti Elijah "il portatore dell'anello" Wood e  la porno attrice Sasha Grey,oltre a questi film è possibile trovare la sua firma in alcuni episodi delle antologie horror come V\H\S Viral e The ABCs of Death ,piccoli film ma sempre realizzati con cura.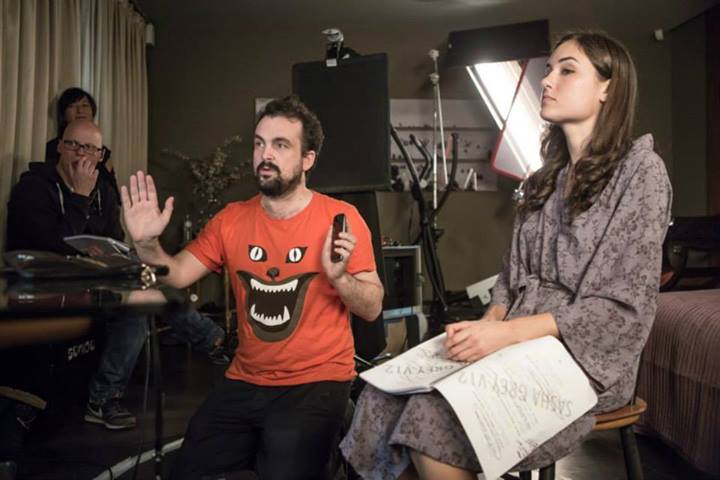 Ma torniamo al motivo di questo articolo,la domanda,come avrete capito non solo è la prima volta che mi trovo a fare una cosa simile ma una serie di strane coincidenze astrali ha permesso che questa possibilità avvenisse con un regista che stimo molto,rendendo tutto molto più difficile,come sentirsi in un film quando si ha una sola possibilità di centrare l'obbiettivo e boom si spara…nel mio caso la domanda è uscita dal cervello senza pensarci moltissimo,grazie alla situazione dei film di quest'anno che ci propongono Remake e Reboot n ogni angolo.
Signor Nacho cosa ne pensa dei Remake che tanto vanno di moda nel mondo di Hollywood ?? se potesse girarne uno a sua scelta quale vorrebbe rifare ??
beh inutile dire che ho pensato subito alla possibilità di aver fatto una domanda cosi stupida da non meritare risposta,invece risposta c'è stata…ed è stata pure sorprendente .
Ho una sensazione paradossale nei confronti dei Remake,più una cosa mi piace meno vorrei vederla rifatta,che sia coinvolto o meno non importa.
L'unico modo per rendermi interessato ad un remake è che questo  aggiunga realmente qualcosa di nuovo alla storia, anche a costo di stravolgerla del tutto , detto questo amerei girare un remake di Hellraiser ma dal punto di vista dei cenobiti

Questa sua risposta mi ha aperto un mondo,lasciandomi immaginare il suddetto film girato alla sua maniera,inutile aggiungere che personalmente aprirei una petizione per permettergli di realizzare la sua folle idea.
Questa è stata la mia prima esperienza nel mondo delle "interviste",sperando anche non sia l'ultima e che le prossime magari siano più articolate ed interessanti .
Stay Tuned.