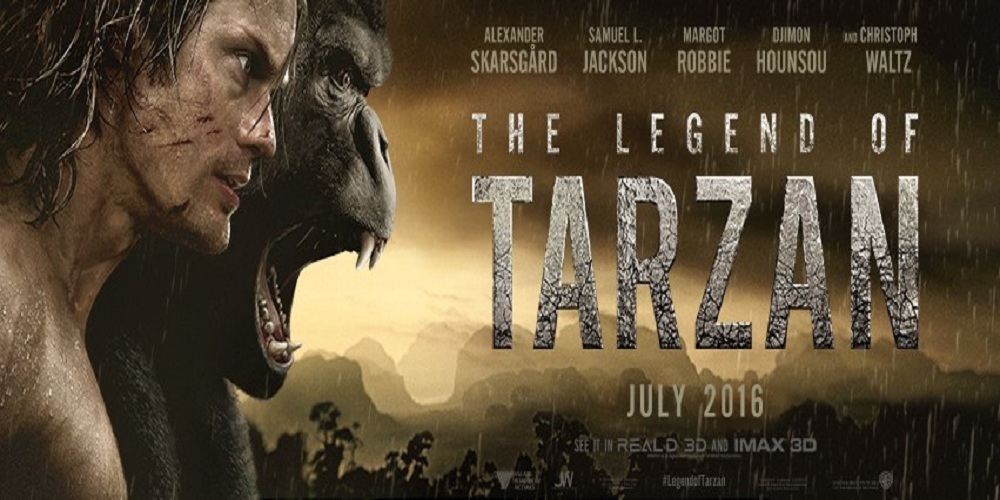 Muuuuuusicaaa :
Premessa, se vi aspettate un film che parli pienamente dell'origine dell'uomo scimmia che tutti conosciamo,beh virate verso altre liane perché The legend of Tarzan parte dove altri finiscono,da John Clayton terzo il nobile lord che vive  agiatamente ibridando cocchi nella Londra Vittoriana e che tornerà nella sua giungla per vederne le atrocità commesse negli anni dal re Leopoldo di Belgio.
Alla regia troviamo David Yates l'uomo dietro agli ultimi 4 film di Harry Potter, la trama è lineare , semplice come ci si aspetta in un film d'avventura come questo, inquadrato fin da subito in un periodo storico e che vede oltre ai soliti protagonisti Tarzan e Jane l'utilizzo di comprimari ed avversari di questo periodo ,l'avventuriero dandy ed emissario del re di Belgio in Congo Leon Rom e la perfetta spalla del protagonista George Washington Williams un ex soldato che vuole indagare sulla situazione della popolazione locale.
A parere mio proprio questi 2 personaggi finiscono per rubare la scena , risultando riusciti ed interessanti ad interpretarli troviamo 2 attori di serie A , Christoph Waltz e Samuel L. Jackson , sicuramente dotati di capacità attoriali ben diverse da quelle del resto del cast ,anche se entrambi si ritrovano nei panni di personaggi "noti"esempio lampante è proprio Waltz che sembra reinterpretare nei modi e nelle gestualità Hans Landa di Bastardi senza gloria ( stesso discorso per Jackson).
Per quello che riguarda i protagonisti invece la Jane di Margot Robbie è bellissima come sempre ( anche se ogni tanto si fatica a credere sia così giovane) per tutto il film cerca di dare al suo personaggio un aspetto diverso da quello della damigella in difficoltà …ma in effetti è esattamente quello , Alexander Skarsgård invece è un tarzan riuscito più per aspetto e comportamento che per contenuti ed espressività, tutti i personaggi sono immersi in una bella giungla digitale abitata da animali in CGI ( ma la sensazione generale è diversa da quella trasmessa dal live action de Il libro della Giungla) .
The legend of Tarzan non è un film brutto,sicuramente il fatto che questa è la 49esima volta che il personaggio viene portato a schermo non aiuta ma il vero problema è che non è riuscito a convincermi ,arriva stiracchiandosi alla sufficienza, nulla più, un progetto di modernizzazione di un classico che tanto mi ha ricordato il recente Pan .
Stay Tuned.