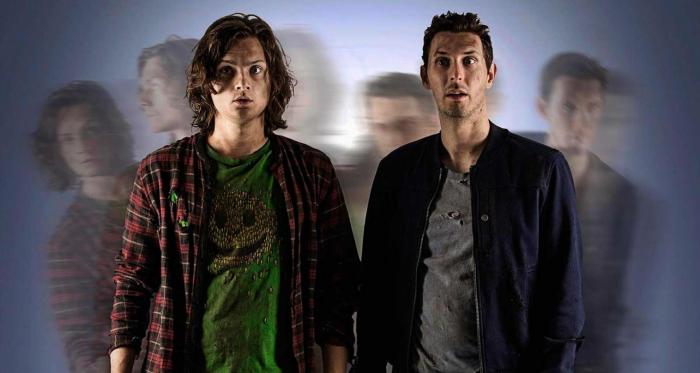 2 migliori amici, Milo e Danny , si trovano a loro malgrado coinvolti in un bizzarro tour in diverse terre parallele allo scopo di salvare la loro stessa vita,che hanno scoperto essere in grave pericolo per motivazioni a loro sconosciute.
Tripped è una miniserie in 4 episodi Made in UK(sull'emittente E4), nata dalla mente di Jamie Mathieson , già sceneggiatore di un film molto simile e di cui prima o poi vorrei scrivere qualcosa ovvero Frequently Asked Questions About Time Travel (FAQ) ,una serie decisamente Low Budget,un ibrido ben strutturato di comicità inglese e Sci-Fi a basso costo.
I nostri protagonisti viaggeranno esplorando diversi universi nelle puntate,inseguiti da un misterioso personaggio che vuole uccidere ogni loro versione alternativa, si troveranno quindi a pensare anche alle loro scelte di vita, vedendo dove diverse vie intraprese li hanno portati al successo planetario o alla follia, il tutto mentre cercano di capire esattamente cosa stia succedendo intorno a loro.
Il cast è ridotto all'essenziale,complice la teoria del multiverso che permette di mischiare le carte semplicemente riassegnando ruoli e costumi da un episodio all'altro , oltre ai protagonisti Danny ovvero Blake Harrison ( The Inbetweeners) e George Webster (City of Dreamers) nel ruolo di Milo troviamo Kate la ragazza di Danny  che vedremo interagire praticamente tutte le realtà visitate,lei è Georgina Campbell ( Freak) .
Una serie folle, che in parte mi ha ricordato l'impatto che ho avuto con la season 1 di Misfit , linguaggio colorito,droga,personaggi molto reali , cosi come per tematiche ricorda invece la serie Sliders,purtroppo Tripped è stata concepita come mini di 4 episodi ma dotata di un finale completamente aperto,non ho informazioni circa la possibilità che la serie venga rinnovata o continuata in qualsiasi forma ma sarei felice se accadesse visto che per il sottoscritto è stata una piacevolissima sorpresa.
Stay Tuned