Ancora un ultima immersione nel mondo degli easter egg provenienti dalla serie sull'uomo senza paura,questa volta presi in esame gli episodi finali dal 9 al 13,
Buona lettura :
EPISODIO 9: Speak of the Devil
-Beh ci abbiamo messo ben 9 episodi ma ecco l'arrivo della mano, il clan ninja rivale dei casti di Stick,conferma che Nobu,visto nel primo episodio,è il loro leader o è ad essi collegato.
La mano è un gruppo molto importante all'interno del universo cartaceo marveliano, si è in passato scontrata con Devil ma anche con Cap.America e Wolverine,un organizzazione fra ninja e magia,collegata all Hydra,ad un certo punto della storia nei fumetti lo stesso Matt ne sarà a capo.
Se faranno una seconda stagione,voglio la mano protagonista (oppure potrebbe riapparire nel MU chi lo sa).
-la mano è anche l'organizzazione a cui si sono ispirati i creatori delle tartarughe ninja per creare i loro cattivi,ironicamente chiamati Il piede.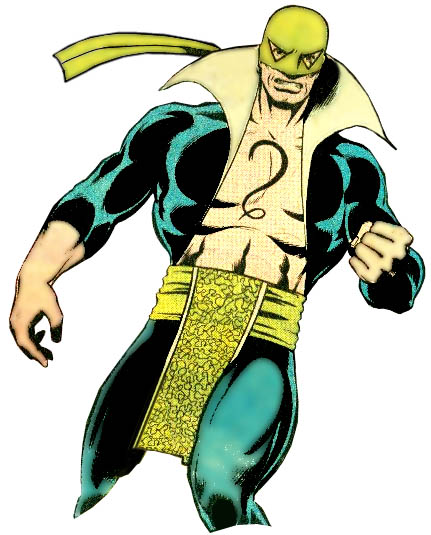 -l'eroina madame Gao ha un marchio,questo simbolo è presente nella mitologia marvel su Steel Serpent,un villan che spesso si è scontrato con Iron First,che sappiamo essere una delle 4 serie in programma per Netflix,ed ha avuto anche legami con Hydra ,un altro grandioso collegamento,Ben fatto.
EPISODIO 10 : Nelson vs. Murdock
-Foggy in un flashback fa riferimento ad una donna greca,che sia per caso un altro rimando ad elektra ??
-durante la puntata viene citata la Roxxon apparsa nei 3 film dedicati a Iron Man ma pure in Agent Carter e Agent of S.H.I.E.L.D
-Owlsley invece cita Van Lunt,un uomo fissato con l'astrologia,nei fumetti lui è un cattivo minore di nome Tauros  ma cita anche  Kyle Richmond,che nella versione fumettistica è conosciuto come Nighthawk,ha fatto parte dei Difensori ed ha avuto legami con lo Shield.
EPISODIO 11: The Path of the Righteous
-nel laboratorio di Potter è visibile il logo del suo alterego Gladiatore
EPISODIO 12: The Ones We Leave Behind
-ad un certo punto sarà visibile un logo contenente la scritta ATLAS ,Atlas comics è l'azienda da cui la Marvel è nata,ed in più esiste un team superoistico poco conosciuto chiamato Agent of ATLAS,anchesso con qualche legame con lo Shield. un altra duplice citazione
EPISODIO 13 :Daredevil
-STAN LEE ..come in ogni marvel che si rispetti Dio Stan compare
-Melvin Potter è la fabbrica degli easter egg,nel suo laboratorio questa volta possiamo vedere quelli che sembrano essere i trampoli di Stillt man,uno dei nemici più imbarazzanti della carriera di Devil .
E questo è tutto amici , tutte le cose che ho visto all'interno degli episodi di questa bellissima serie tv le ho raccolte in questi 3 articoli che spero vi siano piaciuti
Come sempre vi invito a continuare a seguirmi
Stay Tuned