In un prossimo futuro le Grandi Compagnie per accaparrarsi sempre maggiori profitti ed eliminare la concorrenza scateneranno le "Guerre Aziendali". Dopo anni di devastanti conflitti la Terra è ridotta ad un cumulo di macerie, perlopiù radioattive, gli aziendalisti depredano ciò che è rimasto e si danno alla fuga. Dalle ceneri di un pianeta sconfitto nasce il Consiglio dei Nove, che dichiara fuorilegge i manager colpevoli dell'Apocalisse e sguinzaglia contro di loro i cacciatori di taglie.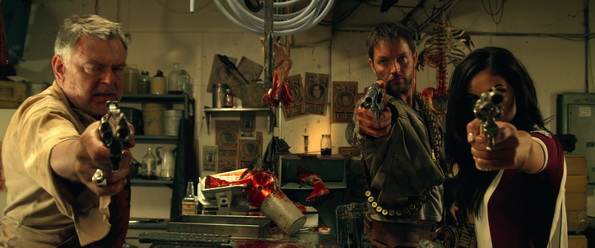 Alla regia di questo strambo action post apocalittico a budget basso troviamo il quasi esordiente Henry Saine ( The Last Lovecraft: Relic of Cthulhu) , un opera nata come graphic novel e poi mutata in un film che pesca a pieni mani da film di ogni tipo,basta partire dalla locandina che fa riferimenti a Kill Bill e Mad Max, ma entrando all'interno del mondo di Bounty Killer possiamo trovare altro come lo Jena Plissken Carpenteriano.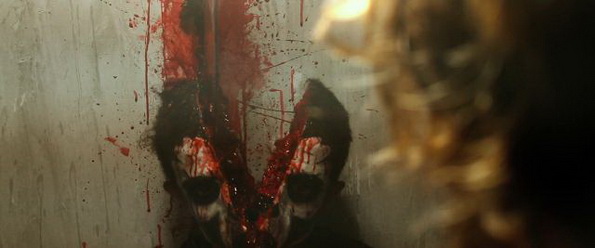 Il tutto è condito con tanta tanta salsa trash , di quella che si pesa in kg di sangue finto e poi frattaglie sparse qua e là a colpi di motosega, spade e lame,esplosioni a gogo, grandinate di proiettili, motori rombanti e veicoli improbabili, infarcito da ragazze in costumi succinti , praticamente 93 min di  una sorta di Machete senza Danny Trejo.
Cast di livello medio/basso   che contiene Matthew Marsden ( Anaconda – Alla ricerca dell'orchidea maledetta ) , Kristanna Loken ( Terminator 3  ),Christian Pitre , Abraham Benrubi ( E.R ),Beverly D'Angelo ( American History X) e Gary Busey ( Point Break , quello originale ) .
Bounty Killer non è un film indimenticabile , ma permette di passare una serata tranquilla intrattenendo il giusto , raggiunge il suo obbiettivo prefissato e quindi anche la mia sufficienza.
Stay Tuned